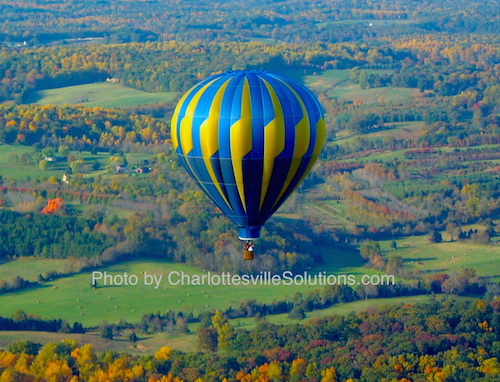 The Charlottesville area is blessed with true four-season weather – from  snow showers around January and February to the first buds of spring in mid to late March and April, through the typically humid summer months, we then arrive at fall in September/October.
Many people agree that they love the warm days and cooler nights. Peak leaf season is mid to late October and a drive in the countryside to go wine tasting is a must to capture the glorious colors.
It's still warm enough to study under a tree on the Lawn during the day, but crisp enough at night that you'll start to smell wood smoke in the air. Take that light coat out of the closet, but don't pack up your shorts quite yet.
Below are a few Fall activities that make the Charlottesville area a truly special place.
1. Foxfield Races Family Day
Twice a year the Foxfield Races bring out the masses in the area. In September the focus is on "Family Day," which will take place this year on Sunday, Sept. 28 – gates open at 10 am. There are a number of activities for children and families.
2. Football games
Whether you're wearing orange or the traditional sundress or coat-and-tie, Scott Stadium is the place to be on Saturday afternoons during home games. 
3. Skyline Drive
Most drivers agree there is nothing quite like the vista that opens up after you crest Afton Mountain heading east on Rt. 64 – this view is made even better with the change in leaf colors. 
Drive along the crest of the Blue Ridge Mountains in the Shenandoah National Park. Stop for a picnic among the cardinal flowers, black-eyed susans and goldenrod that bloom right into the fall. Keep an eye out for deer, black bear, wild turkey and a host of other woodland animals that call Shenandoah home. 
Many people also like to hike up Humpback Rocks and enjoy the view now that the leaves start to fall.
4. Trick or treating on the Lawn
A tradition not to be missed if you have young children. Costumed children from all over the Charlottesville community wander the Lawn, with the Rotunda watching over everything, during the Halloween on the Lawn celebration. Candy for everyone is handed out at many of the rooms on the Lawn. It's also a great chance to see so many costumes all in one place.
5. Soccer games in Klockner
The women's and men's soccer teams have both proven to be forces to be reckoned with on the national stage. Many area youth soccer players attend the games with their teams to see them in action.
6. Wine tours
If you have an adventurous palate and a nose for good wine, check out the 22 vintners on the Monticello Wine Trail. Many are involved in harvest at this time of year and offer harvest festivals where you can stomp on some grapes and even pre-taste wine fermenting in the barrels. 
Virginia is now home to over 230 wineries, with over 50 within an easy drive of Charlottesville.
7. Apple picking at Carter's Mountain
Most every parent of a Charlottesville area preschooler has made the trek up to Carter's Mountain to pick their own apples and enjoy the panoramic view of Charlottesville. You'll find a dozen varieties of apple including Red Delicious, Golden Delicious, Granny Smith, Winesap and Fuji. 
Warm up with a hot apple cider or enjoy one of their famous home-made apple cider donuts.
8. Homecoming Weekend
Watch the Virginia vs. North Carolina football game on Oct. 25. Tailgate. See a lecture by a famous faculty member. Run a 5k race. Eat pancakes for charity. Cheer on the volleyball, soccer and field hockey teams. Homecoming offers fun for everyone the weekend of Oct. 24-26, 2014.
9. Hiking in Ragged Mountain Natural Area
Feel like you're in the wilderness just minutes from Charlottesville on the boulder-studded slopes of the Ragged Mountains. Enjoy a forest of mature oak, pine and maple trees and more than four miles of shoreline. See the landscape that inspired Edgar Allan Poe's A Tale of the Ragged Mountains.
10. The 27th Annual Virginia Film Festival
The best way to see movie stars and filmmakers locally is to attend the 27th Annual Virginia Film Festival, which offers big Hollywood films and small independent features this year from Nov. 6-9, 2014. 
11. Hot air ballooning
Everyone is Charlottesville can attest to the almost daily thrill of seeing hot air balloons pass overhead in the early morning hours and as they rise majestically in the air near sunset. 
Rise though the cool autumn air in a hot air balloon and see the patchwork of the city below. Or enjoy an "aerial nature walk" over the countryside. Carter's Mountain is a fantastic place to see the balloons in action.
12. Marching band practice
On some fall evenings, you can follow the sound of the drumline all the way to Carr's Hill Field and watch the Cavalier Marching Band prepare for half-time shows at Scott Stadium. Bring a cup of hot chocolate to keep your hands warm and enjoy a preview.