Exploring our Monticello Wine Trail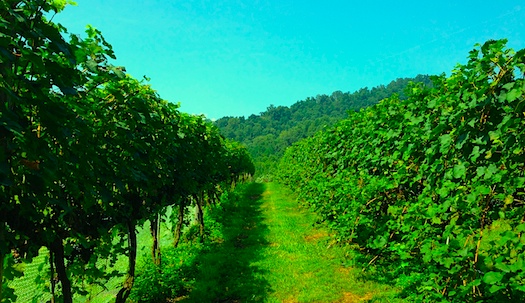 As many of our area residents and visitors have discovered, Charlottesville is surrounded by top-notch wineries – many of which are a short 25-minute drive away through our beautiful countryside. Many in the know would also point out that two are owned by celebrities – singer Dave Matthews (Blenheim Vineyards) and entrepreneur Donald Trump (Trump Winery).
Virginia is now home to about 255 wineries and is ranked the 5th leading producer of wine in the country. We're considered the Birthplace of American Wine as the first wine was produced at Jamestown in 1609, back when it was required to be made by law.
More than 400 years later, we now have seven AVAs, or American Viticultural Areas. An AVA is defined as "a delimited grape growing region, distinguished by geographical features, the boundaries of which have been recognized and defined by the Bureau of Alcohol, Tobacco, and Firearms (BATF)."
An AVA is considered a type of appellation, which is often used instead of AVA. Not all appellations, however, are designated an AVA by the BATF. Unlike most European wine appellations of origin, an AVA specifies only a geographical location from which at least 85% of the grapes used to make a wine must have been grown.
Monticello AVA region
Here in Charlottesville, we are in the middle of the Monticello AVA (with around 50 wineries), and the around 30 wineries on the Monticello Wine Trail have all been inspired by Thomas Jefferson's vision of winemaking.
Late in his life, at Monticello, Jefferson envisioned vineyards and wines from his native state comparing with the great wines of the Old World. He believed that "we could, in the United States, make as great a variety of wines as are made in Europe, not exactly of the same kinds, but doubtless as good." He planted his vineyards close to home that year, on the land where Jefferson Vineyards now stands, but his efforts were in vain, and his vision remained unfulfilled.
Some 200 years later, Jefferson's Monticello home is America's only site listed on the World Register of Historic Places, and in 1984 the counties surrounding Monticello were designated the Monticello Viticultural Area (AVA), in recognition of the region's distinguished and burgeoning wine industry.
Today the parent organization of the Monticello Wine Trail, the Jeffersonian Wine Grape Growers' Society, is an active association of the largest concentration of wineries in Virginia, outside the Northern Virginia region, with around 30 producing wines of national and international acclaim.
Touring around
We boast several of the oldest wineries in the state, including Barboursville Vineyards (founded in 1976 by the Zonin family and long heralded for their Octagon wine and delicious whites); Burnley (founded in 1977 and still owned by the Reeder family); Horton Vineyards (founded in 1983 and known for promoting what has become Virginia's signature white – Viognier); Jefferson Vineyards (founded in 1981 and home to Thomas Jefferson's signature bottles); and Prince Michel (founded in 1982 and known for its satellite location atop Carters Mountain – just down the road from Monticello).
We recommend planning out your visits to not include more than three stops a day as you will want to stay at each of the wineries and relax and enjoy the views. Most wineries are only open on the weekends and typically from 11 a.m. to 5 or 6 p.m. It's a good idea to call ahead to make sure.
Many have spectacular mountain vistas – in particular Afton Mountain Vineyards, King Family Vineyards, Veritas Winery, Early Mountain Vineyards and Stone Mountain Vineyards (despite the incredibly steep driveway the view from the top can reveal a six-county vista on a clear day – incredible!).
For scenery and water views, you can't beat Glass House Winery – which overlooks a peaceful lake perfect for picnics while you indulge in their handmade chocolates. Pollak has a beautiful water view and listening to music in the evenings on their patio and lawn is a treat. White Hall Vineyards also has a pleasant water feature and the shaded lawn is the perfect place to relax with friends and catch up.
It's difficult to choose the best winery, as each one has a distinct style that draws repeat visitors, so we recommend exploring the Monticello Wine Trail on your own and letting us know which one is your favorite! http://www.monticellowinetrail.org/
Below are some upcoming events:
4TH ANNUAL HALLOWEEN BASH FEATURING TOMA QUE TOMA AND BELEZA AT GLASS HOUSE WINERY
October 31 @ 6:00 pm – 10:00 pm Glass House Winery
YAPPY HOURS
November 2 @ 9:00 am – 5:00 pm Keswick Vineyards
RACE AND TASTE 10K AT TRUMP WINERY TO BENEFIT ST. JUDE CHILDREN'S RESEARCH HOSPITAL
November 2 @ 9:00 am – 2:00 pm Trump Winery Barn
HOT AIR AFFAIR: BALLOONING AT TRUMP WINERY
November 2 @ 2:00 pm – 5:00 pm Trump Winery Pavilion
[RE]ESTABLISHMENT AND LAUNCH OF THE MONTICELLO WINE COMPANY WITH OWNERS LUKE AND MICHAEL MACFARLAN AT GLASS HOUSE WINERY
November 7 @ 5:00 pm – 10:00 pm