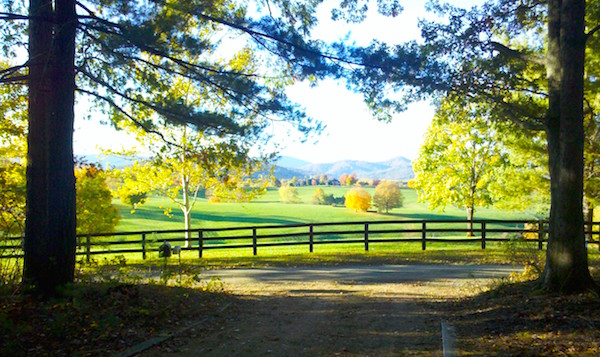 Many people come to the Central Virginia area because of the natural beauty in the form of the Blue Ridge and Southwest Mountains that surround the towns of Charlottesville, Ivy, Crozet, Earlysville, Afton, Earlysville, Free Union and Ruckersville, to name a few. Although you might be familiar with the challenges that living in a more rural area can bring, it's a good idea to make sure you're prepared before you jump into purchasing your dream retreat cabin in the woods.
Hiking and camping are one thing, but actually living in rural areas, while they can be breathtaking and offer fresh air, clean water, quiet days and nights, animals and plants you'll never see in the city, you'll also have to think about how they differ in terms of amenities, access to wildlife and property restrictions.
If you're buying a rural property for a retreat for your family away from city living, or as an investment property because it's close to resorts like Wintergreen and Massanutten, it might be wise to consider how the pros and cons will impact your ability to rent or sell the property in the future.
Amenities
In some areas, local and national laws restrict amenities – think electricity, water & sewer, hospitals and grocery stores. Investigate which facilities are available in any area you're planning to invest in. Never purchase a property you haven't personally visited and walked around to get a lay of the land, so to speak.
Pros: Rural areas can offer hiking, fishing, cycling, snowmobiling and other recreational activities like ski facilities, boating and guided tours. Perks like these will make your property attractive to potential buyers and renters.
Cons: Some homes come without amenities you may consider basics: sewage pipes, fresh water, electricity, heating systems and Internet access. Hospitals, stores, schools or equipment rental could be miles away. If your property is far from police and fire service access, that could also impact your homeowners insurance policy costs.
Weather
In recent years, winter has made its presence known here in full force – leaving many homes across the state without electricity for days or even weeks on end. In rural areas, you'll feel the effects of the weather more acutely than in the city. Consider how easy or difficult it may be to keep a rural home in good condition.
Pros: The sense of being at one with nature. Many potential renters will be attracted to the idea of vacationing in the wild.
Cons: How will heavy snows affect the condition of your property — and your access? Will you need to invest in a snowmobile? How about strong winds and heavy rains? Could the property flood – have you investigated flood insurance claims or insurance? How often do forest fires rage? Do any seasons render the property uninhabitable? How will your homeowners insurance be affected by all this?
Wildlife
Proximity to wildlife remains a key selling point of any rural area property. But you may not be happy if a deer or bear decides to take up residence on your back porch.
Pros: Hunters, fishermen and bird watchers alike will want to stay in a property so close to nature.
Cons: What happens if birds or rodents invade, especially if the property will be empty for weeks or even months at a time? Damage caused by these creatures can prove costly. Not to mention the challenge of evicting them from a kitchen cabinet or fireplace. Will you need to spend a lot of money preventing infestations? And what about larger animals? Are there bears? Have there been any recent wildlife attacks on people in the area? Because rural properties are also attractive to hunters, you or your renters may also need to be prepared to see them in blaze orange clothing trekking through during hunting season.
Legalities
The Wilderness Act of 1964 severely restricts the use of motorized transport, building and other activities.
Pros: Wildlife is protected, and the area remains beautiful.
Cons: While not all rural areas fall under the 1964 laws, there may be other local regulations that restrict activity. Before you buy a property in a rural area, investigate any laws or prohibitions that may affect you. If you want to buy a cabin and plan to rent it out over the summer: Are you allowed to refurbish the building? Can you install electricity, boilers or widen access paths? Are you permitted to rent out your own land?
Community
Rural area communities can be very close-knit.
Pros: School and class sizes run smaller, and teachers may have closer relationships with parents. Crime is often lower. If there's one store in town, it doesn't take long to become friends with the proprietor. In an area otherwise isolated, neighbors often look out for each other.
Cons: It can be difficult at first to break the ice in a small, close-knit community. The lack of diversity in health care and shopping can be a disadvantage.
Other rural area factors
Consider a few other issues that may fall into pro or con, depending on your vantage point.
Price: Some rural area properties can be extremely inexpensive — but there may be a reason, like the distance from services or lack of amenities listed above. But if you're just looking for an easy getaway, or a slice of nature without having to haul a tent around, that could work for you.
Traffic: Compared to a city, there is hardly any traffic in rural areas unless your property is next to a resort. Then it will be busy over the holidays or other peak seasons.
Employment: If you plan to live there year-round, will you work from home? Or in a nearby town? Some towns have hotels and restaurants that will need extra staff at peak times or tourism that calls for guides — but what about the rest of the year? How will weather affect your ability to work?
Like so many real estate options, buying a rural property could turn into a dream home — if you do the right homework for your lifestyle and ask the right questions of your Solutions agent.