Charlottesville has quickly become THE destination for many travelers. On any given weekend, you can drive around a corner of a quiet country road and see a limo, or two, carrying a bridal party or guests enjoying one of the many winery tours in our fast-growing wine region – the aptly named Monticello Wine Trail.
At one time, our little town was one of the best-kept secrets in Virginia, but we've been discovered, as they say, and tourists, retirees and new residents alike are flocking here to walk our Downtown Mall or visit Monticello, Thomas Jefferson's home.
Good Housekeeping recently announced that Charlottesville is the Happiest City in America!
Once only known for the University of Virginia, this once sleepy area now boasts more than just natural beauty in the surrounding mountains.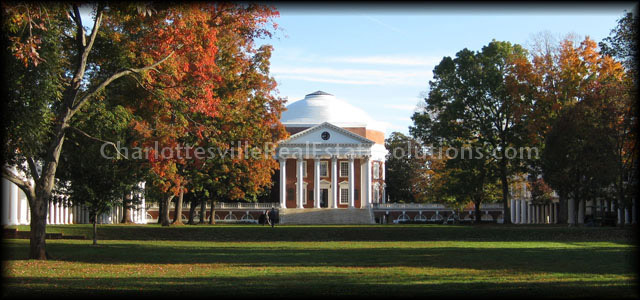 Location, location, location
Charlottesville is located just east of the Blue Ridge Mountains in central Virginia and incredible views can be spotted from anywhere around town, from Tip Top at Pantops to the rooftop terrace at Heirloom at the Graduate Hotel on the Corner, or any parking garage around town really.
As a result of eight annexations, the most recent of which was in 1968, this independent city is now 10.4 square miles. As of 2015, the population was 48,210 – UVA adds more than 20,000 students a year to that number even though the Grounds are technically considered a part of Albemarle County.
The city itself has 18 distinctive neighborhoods, from Belmont, Woolen Mills, Starr Hill and Fifeville to Rugby Road, Park Street/Locust Avenue and Greenbrier, just to name a few.
The Bureau of Economic Analysis combines the City of Charlottesville with the County of Albemarle for statistical purposes, bringing its steadily growing total population to approximately 150,000.
Charlottesville is the heart of the Charlottesville metropolitan area, which includes Albemarle, Fluvanna, Greene and Nelson counties.
A Look Back
Charlottesville was formed in 1762 by an Act of the Assembly of Albemarle County. Thomas Walker was named its first trustee. It was located along a trade route called Three Notched Road (present day U.S. Route 250) which led from Richmond to the Great Valley. It was named for Queen Charlotte of Mecklenburg-Strelitz, the wife of King George III.
Many school children have heard of Paul Revere's Ride on April 18, 1775 – thanks to the poet Henry Wadsworth Longfellow – but some local historians can argue as well that Jack Joust's ride was just as, if not more, important to a young country.
During the American Revolutionary War, the Convention Army was imprisoned in Charlottesville between 1779 and 1781 at the Barracks. The Governor and legislators had to temporarily abandon the capitol and on June 4, 1781, Jack Jouett warned the Virginia Legislature meeting at Monticello of an intended raid by Banastre Tarleton, allowing a narrow escape.
A Look at Albemarle County
Albemarle County has also had quite a history. At the time of European encounter, the inhabitants of the area that became Albemarle County were a Siouan-speaking tribe called the Saponi.
In 1744, the Virginia General Assembly created Albemarle County from the western portion of Goochland County, although portions of Albemarle were later carved out to create other counties.
Albemarle was named in honor of Willem Anne van Keppel, 2nd Earl of Albemarle. It was partitioned in 1761, forming Buckingham and Amherst counties, at which time the county seat was moved from the formerly central Scottsville to a piece of newly central land, christened Charlottesville.
In 1777, Albemarle County was divided and Fluvanna County established, finalizing the boundaries of modern Albemarle County at 726 square miles.
Albemarle County Public Schools Albemarle County Fire Rescue Albemarle County Historical Society
Albemarle County Department of Motor Vehicles Official Site of Virginia
Other Attractions
Charlottesville is the home of the National Radio Astronomy Observatory headquarters, the Leander McCormick Observatory and the CFA Institute. It's served by two area hospitals, the now known as Sentara Martha Jefferson Hospital, founded in 1903 and now located near Pantops, and the University of Virginia Hospital in 1901.
The National Ground Intelligence Center (NGIC) is just north of Charlottesville. Other large employers include Crutchfield, the CFA Institute, GE Intelligent Platforms, PepsiCo and SNL Financial, not to mention all the new craft breweries and recently opened wineries dotting the landscape.
Charlottesville is host to the annual Virginia Film Festival in early November, the Charlottesville Festival of the Photograph, better known for its "photos in the trees" along the Downtown Mall in the summer, and the Virginia Festival of the Book in March.
In addition, the Foxfield Races are steeplechase races held in April and September of each year. A Fourth of July celebration, including a Naturalization Ceremony, is held annually at Monticello, and a First Night celebration has been held on the Downtown Mall since 1982.
Charlottesville has four sister cities: in France – Besançon; in Bulgaria – Pleven; in Italy – Poggio a Caiano – the birthplace of Thomas Jefferson's neighbor and friend, Filippo Mazzei; and in Ghana – Winneba.
If you've never visited our area before, and now that our secret is out as one of the best places to live, why don't you consider a visit to Charlottesville soon and maybe stay for a day, or a lifetime?
For information on homes, try some of our search features