If you are a buyer and have a Buyer Broker Agreement with your agent, be sure your agent is scheduling and touring homes for you. This is a fundamental responsibility of your agent that is critical in not only finding the right home but in starting the negotiation of the purchase of that home. I can not stress enough to clients that the listing agent represents the sellers interest, especially in Virginia…read more below:
Why is my agent asking me to sign a Buyer Brokerage Agreement?
As of July 1, 2012, there is a new law that requires all REALTORS® in Virginia to have a signed "written" Buyer Brokerage Agreement prior to showing any property in Virginia.
Why this new law?
This new law is to ensure that the public is fully aware of how a Realtor represents their interests (or if the Realtor represent the interests of the seller). The new law is to discourage opportunistic dual agency: The law is intended to make sure that licensees who practice dual agency are fully informing consumers about the risky nature of that relationship.
Charlottesville Solutions Strongly Discourages Dual Agency
What is a Buyer Brokerage Agreement?
Essentially the Charlottesville Buyer Brokerage Agreement states the duties and obligations of all parties, describes how your Buyer's Agent Realtor will be paid, and defines the start and end dates of that relationship. When reviewing the agreement you, the Buyer, can choose the term during which you will be associated with your Realtor. You could choose a single day to see just one home, or you could choose several months so your Buyer's Agent can help you through the entire buying process.
What are the duties of your REALTOR®?
Locate and show homes that fit your needs (it is in your best interest to have your buyer agent show you homes, and not go directly to the listing agent or firm – remember they represent the seller)
Negotiate terms and conditions of a real estate purchase contract
Prepare written offers and counteroffers
Promote your interests
Maintain the confidentiality of your personal and financial information
Account for any money received, in which you have an interest
Are there other types of agreements?
There are other types of agreements that your Realtor can explain to you so you can choose the best type of representation for your situation. Other types of agreements include a limited service agent and an independent contractor. A limited service agent will preform some but not all of the duties of a standard agent. An independent contractor is a form of non-agency where your Realtor will perform only the specific tasks that you outline in your brokerage agreement.
What are the benefits?
The benefits of engaging a Realtor as your standard agent include the advantage of having a professional advocate working on your behalf, with business experience and training, and one with access to market information who can negotiate solely on your behalf in the interests of saving you money and time.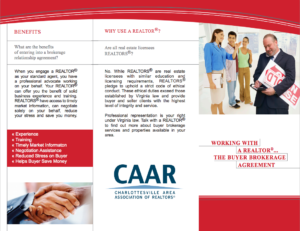 What Questions should I ask a REALTOR® before signing a Buyer Broker Agreement?
1. Do you represent the seller or me?
2. What happens if I want to purchase a listing that you (or your firm) has listed for sale?
3. Does your Firm allow Dual Agency?
4. Do you have any working relationships with Lenders, Attorneys, Inspector or any other firm?
(this is to be sure that the agent does not have any undisclosed relationships that may show up when you are in a contract)