When you visit Charlottesville Virginia you are really missing out if you do not take the tour at Monticello. They have several tours now (house, Gardens and Plantation) and the house tour is the most popular and my personal favorite. When you are on the front porch at Monticello and you look out over Charlottesville you get a feel for the greatness of Jefferson.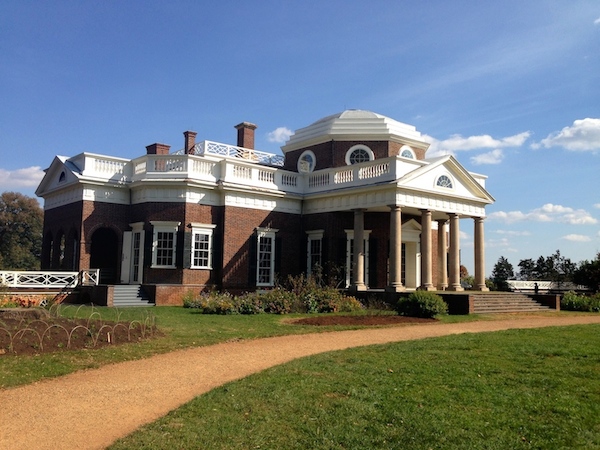 You can see the University of Virginia from his grounds just as he did when it was being built. The moment you enter you see several of his accomplishments and his inventions. I will not spoil your tour by giving away the details but you will be very surprised at all the things he did!
You know of course he sent Lewis and Clark out west from here…
My wife loves the garden tour and it is ever changing with the seasons. What a great way to spend a day in Charlottesville!
More about Monticello:
Monticello is a plantation house located in Charlottesville, on the east side of the Blue Ridge Mountains. It was built by Thomas Jefferson, who was the third president of the United States. Monticello is one of the most famous houses in the United States, and is considered to be one of the most important examples of neoclassical architecture in the country.
Jefferson began designing Monticello in 1769, when he was just 26 years old. He continued to work on the house and its grounds for the rest of his life. Monticello is a complex and beautiful building, and is a reflection of Jefferson's many interests. The house is made of brick and sandstone, and has a dome that is modeled after the Pantheon in Rome. The grounds of Monticello include gardens, a vineyard, and a farm.
Monticello was designated a National Historic Landmark in 1926. It is now owned and operated by the Thomas Jefferson Foundation. Monticello is open to the public for tours, and is a popular tourist destination.
Here are some of the things you can do at Monticello:
Tour the house: Monticello is a large and complex house, and there is much to see. Tours of the house are led by docents who are knowledgeable about Jefferson and his life.
Explore the grounds: The grounds of Monticello are beautiful and well-maintained. There are gardens, a vineyard, and a farm to explore.
Visit the museum: The Monticello museum has exhibits on Jefferson's life, his work as a president, and his architecture.
Attend a special event: Monticello hosts a variety of special events throughout the year, including concerts, lectures, and festivals.
Take a class: Monticello offers a variety of classes on topics related to Jefferson, his life, and his work.
If you are interested in American history, architecture, or Thomas Jefferson, then Monticello is a must-see destination.