Keswick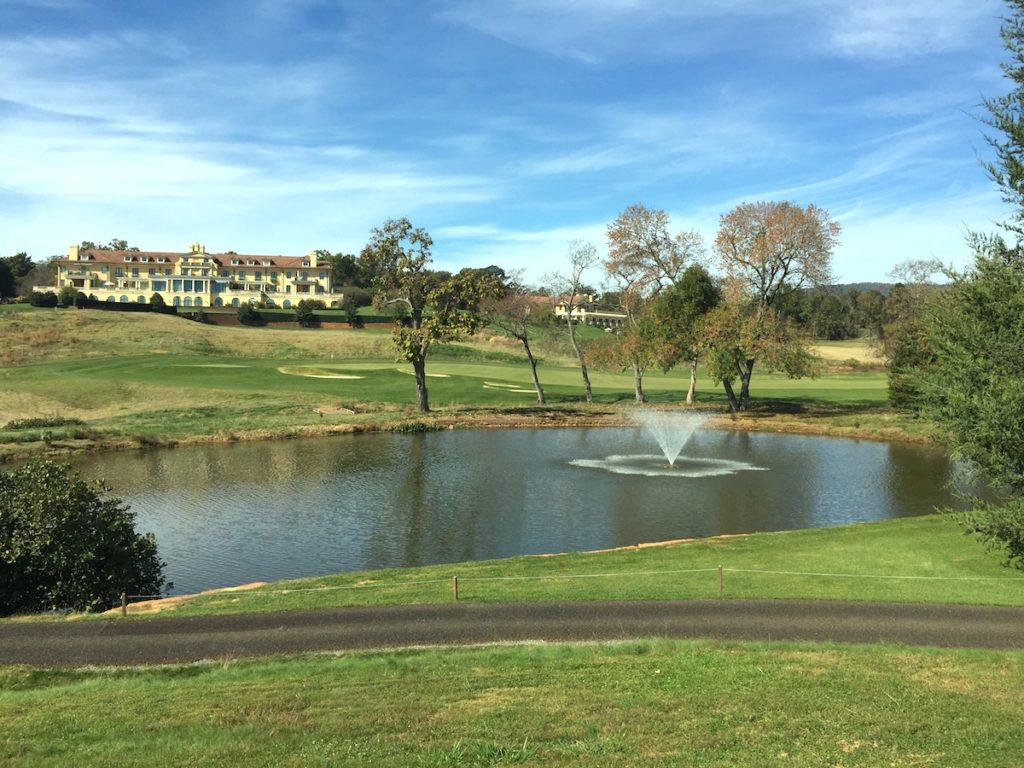 When you live in Charlottesville, going for a "Sunday" drive in the country takes a matter of minutes. Keswick offers some of the most beautiful views to enjoy as you meander by on Route 22/231, which has often been cited as one of the most scenic roads in America. 
Film buffs know the 1956 movie "Giant" – starring Elizabeth Taylor, James Dean and Rock Hudson – was filmed partially at the former train station, which is now part of Little Keswick School and used as a dining hall and farm of Belmont (not to be confused with East Belmont). The portions of the movie set in Maryland were filmed at these places in Keswick.
An unincorporated community in Albemarle County, Keswick is about six miles east of Charlottesville, just after Pantops. It's also about four miles from Monticello and Ash Lawn-Highland, the homes of Thomas Jefferson and James Monroe. 
The area features stately, and old, estates, with white board fences that encompass and offer vistas of fields, filled with horses, cows, and, yes, even vineyards, stretching up to the Southwest Mountains.
Since many of the parcels of land in Keswick are large, it is relatively undeveloped and still retains its natural beauty. Many of the estates were plantations in the 18th century. No major development took place in Keswick until the 1990s, and the development since then has been subject to scrutiny by Albemarle County officials – notably the gated communities of Glenmore and Keswick Estates.
For those who want the quaint stores and restaurants often associated with small towns, Gordonsville is about 12 miles up Route 231. Most socializing, though, is done within the communities themselves, either in residents' homes or at the Keswick Club or the Glenmore Country Club. Each one offers memberships to residents and nonresidents. There's also the Keswick Hunt Club, which has been a center of fox hunting since 1896.
"Center" of Keswick
The actual "center" of Keswick is a blink and you'll miss it point in the road, a post office and a few others buildings and a major curve before you hit the entrance to Keswick Hall.
The town also includes Oakland School, a special boarding and day school for children with learning disabilities; and the Little Keswick School, a boarding school for students with social skill and emotional struggles, not to be confused with a treatment center. 
The postal delivery area by the name of Keswick is substantially larger than Keswick itself, extending to the north nearly to Gordonsville and to the west to Stony Point, encompassing towns too small to have a post office, including Cash Corner, Cismont, Lindsay, Stony Point, Boyd Tavern, Cobham, Whitlock, and Rosena.
East Belmont, Limestone, and Southwest Mountains Rural Historic District are listed on the National Register of Historic Places.
Keswick Vineyards
The land at Keswick Vineyards, according to their website, was part of the original 1727 Nicholas Meriwether Crown Grant that comprised nearly 18,000 acres on the east side of the Southwest Mountains. George Barclay Rives, a direct descendant of the original grantee, built the current residence in 1911 and named it Edgewood Estate.
The property was the site of two important historical events: one during the Revolutionary War and the other during the Civil War. On June 4, 1781, Captain Jack Jouett rode 40 miles through the night to warn then-Virginia Governor Thomas Jefferson and the Virginia Legislature of the approach of British troops led by Colonel Banastre Tarleton.
Tarleton's troops arrived at Castle Hill, the original tract of land to which Edgewood Estate belonged, just after dawn on June 4, 1781. Legend has it that Tarleton and his troops stayed for breakfast, thus delaying their march to Charlottesville, allowing for Jefferson and others to escape. 
Almost 100 years later, Confederate General James A. Longstreet was ordered to move his troops from East Tennessee on April 7, 1864, to Charlottesville to prepare for the Battle of the Wilderness. The Confederates detained at Charlottesville and were then marched to various campsites, including Edgewood Estate. Historians believe that just days before the movement toward the Wilderness, Longstreet's men were reviewed by General Robert E. Lee.
Today, the vineyard offers award-winning wines in a bucolic setting, which is increasingly popular as a wedding destination.
Castle Hill Cider is another popular place to gather and host events while visitors can sit back and relax and enjoy the ubiquitous views. The historic Castle Hill Estate, 
originally built in 1764, now is the site of one of Central Virginia's newest venues for destination weddings and events.
Keswick Hall & Estate
Keswick Estate has been developed by Orient-Express, the resort and transportation company that has owned and run the adjacent country club and hotel, Keswick Hall, since 1999.
According to their website, the 17-room Villa Crawford, the north wing of Keswick Hall, was built as a private residence in 1912 for Mr. and Mrs. Robert B. Crawford. Designed by prominent local architect Eugene Bradbury to resemble an Italian villa, it was an 8,000-square-foot, two-story, stucco-clad, slate-roofed home. 
Room 9 was the original master bedroom, and Villa Crawford Bar was the family dining room. Villa Crawford had five different owners during its 35 years as a private residence.
In 1948, Villa Crawford became the newly formed Keswick Country Club. The old clubhouse was restored and greatly enlarged in the early 1990s by Sir Bernard Ashley, widower of designer Laura Ashley (who died in 1985). 
Restoring Villa Crawford to its earlier splendor was an important part of this work, and the architectural integrity of the mansion was painstakingly maintained. 
A new clubhouse and Arnold Palmer golf course opened in 1992; the hotel in August 1993. In 2002, the golf course was certified as meeting Audubon standards of environmental stewardship. The infinity edge pool was added in 2003, Fossett's Restaurant in 2004, the Chef's Garden in 2009, Courtside Vineyard in 2010, and Treble, a private dining wine cellar, in 2011.
As this truly premier property launched into its second century, two major projects affirmed its world-class caliber: Full Cry, the new golf course designed by the legendary Pete Dye, as well as beautifully refreshed guestrooms. It has been owned since January 2012 by Historic Hotels of Albemarle.
Homes in Keswick