Recently we heard the welcome news that Charlottesville is considered "the happiest place in the country to retire," according to a new ranking by Washington, D.C., based publisher Kiplinger. 
We have topped many Top Ten lists before, but our area has seen an increase in recent years in the numbers of seniors coming from all over the country – but mostly from those up north who are tired of the cold winters – and many companies have decided to make an investment in the types of housing and activities they want to offer these new arrivals.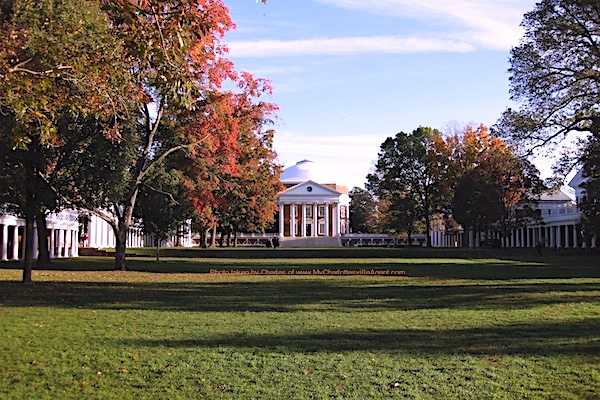 So Many Activities
Charlottesville has long been known for its natural beauty and historical presidential homes and university – Thomas Jefferson's Monticello and James' Monroe's Highland, formerly known as Ash Lawn-Highland, and the University of Virginia all draw hundreds of thousands of visitors every year. 
The Downtown Mall has become a must see a stop for most every visitor and many tourists have taken advantage of the help provided by our local Charlottesville Downtown Visitors Center at 610 East Main Street, located next to the Pavilion with its iconic white draped roof for those outdoor shows that attract intemperate weather.
The Charlottesville Albemarle Convention & Visitors Bureau website also provides some great information on what to do and see in our area.
It's no surprise that many visitors that come here for a fun trip often wind up moving here to retire as there are so many activities to choose from and our climate is a true four-season experience, with mostly mild winters.
Our music scene is vibrant, the local theaters have shows running all year long, the library system is terrific and offers everything from yoga and weekly reading to small children groups to continuing education classes, and every foodie loves the sheer number of excellent restaurants from all over the world to choose from on every corner it seems.
What Defines Well Being?
A state of happiness cannot be pinpointed on a map. But a great deal of residents seem to have found it in the Top Ten 10 places, according to the Gallup-Sharecare Well-Being Index.
Digital health company Sharecare, working with Gallup, has conducted more than 2.6 million surveys nationwide since 2008 to gauge "Americans' perceptions of their lives and their daily experiences." 
The Well-Being Index is based specifically on residents' feelings about five elements of well-being: "purpose" (liking what you do and being motivated to achieve goals), "social" (having supportive relationships and love), "financial" (managing your budget to feel secure), "community" (liking where you live) and "physical" (being in good health). 
The higher the score, on a scale of 0 to 100, the happier residents indicate they are about where and how they are living their lives.
Natural Beauty is a Huge Draw
The Kiplinger 2019 list points out Charlottesville's natural beauty and outdoor experiences as top contributors to the number one ranking.
Kiplinger also calls the city tax-friendly for retirees and notes more than 10% of the population is made up of people over the age of 65. Representatives from The Center in Charlottesville agree with the ranking.
"Charlottesville is a great place to live at any age, so it shouldn't be a surprise that it's a great place also to retire. It's got the great benefits of being a college town – big town amenities with a small-town feel – lots to do culturally, athletically, indoor recreation, outdoor recreation, festivals, and great community centers like The Center," said Peter Thompson, executive director of The Center.
The Senior Center
The Senior Center has hosted activities, trips and meals center for older adults, people aged 50 and better, for almost 60 years – and has gone from 25 members in 1960 to over 2,000 members today – and will move to The Center at Belvedere, a new 47,000-sq.-ft. facility, in Spring 2020. The Center is a nationally-accredited, award-winning nonprofit that has been a leading resource for senior health and independence.
The center was the first accredited senior center in Virginia in 2002. Of the approximately 12,000 senior centers in America, less than 2% have been accredited. The National Institute of Senior Centers (NISC), a constituent unit of the National Council on Aging (NCOA), offers the nation's only National Senior Center Accreditation Program.
New Retirement Community – The Blake
Our area has drawn a lot of interest from large retirement companies and many have decided to build here. For example, just North of Rt. 29 North on Rio Road West, and nestled on a hilltop at the historic Oakleigh Farm, the newly opened The Blake at Charlottesville offers resort-style hospitality and retirement services embracing the best traditions of Virginia lifestyle. Surrounded by abundant opportunities for shopping, dining, and medical services.
The Blake Management Group is a collection of communities in Alabama, Florida, Louisiana, Mississippi, South Carolina, Tennessee, Texas and Virginia that provides top-quality assisted living and memory care services for older adults. The communities are managed by BMG, a leader in senior living that sets high standards and provides long-term stability for each location.
The Blake joins Old Trail, The Colonades, Westminster Canterbury, Branchlands, and the Martha Jefferson House in town.
How the Top Ten Ranked
To come up with the original list of the 50 best places to retire in the U.S. — one in each state — Kiplinger factored in the "community" and "physical" components of the Well-Being Index, where available, as well as living costs, safety, median incomes and poverty rates for retirement-age residents and the availability of recreational and health care facilities. 
The following 10 retirement destinations rank the highest in terms of the overall well-being of residents. See if you agree, and consider whether any might make a happy place for your own retirement.
10. Burlington, Vt.
WELL-BEING SCORE: 63.0 (U.S.: 61.8)
CITY POPULATION: 42,453
SHARE OF POPULATION 65+: 10.7%
COST OF LIVING FOR RETIREES: 16.4% above the national average
AVERAGE INCOME FOR POPULATION 65+: n/a
STATE'S TAX RATING FOR RETIREES: Least Tax Friendly
This small mountain city on the shores of Lake Champlain is a picturesque setting for tree-hugging retirees. Outdoor recreation is plentiful with miles of hiking and biking paths, nearby beaches where you can swim, kayak or paddleboard in the warmer months, and numerous skiing options in the area. An eco-friendly vibe permeates the town, from the businesses bolstering the city's economy, such as household-products maker Seventh Generation, to the local food movement feeding the neighborhood.
But being green isn't easy on your wallet. Taxes and living costs are high. While the median home value is a low $206,000 in the Green Mountain State, compared with the median $229,000 for the U.S., it climbs to $326,500 in Burlington. 
A private room in a metro area nursing home costs a median $11,498 a month, compared with $8,365 a month for the U.S. At least you can save money on academic pursuits. The University of Vermont will cover tuition costs for state residents age 65 and older who wish to take a class, even if it's for credit.
9. Charleston, S.C.
WELL-BEING SCORE: 63.1
CITY POPULATION: 120,903
SHARE OF POPULATION 65+: 12.0%
COST OF LIVING FOR RETIREES: 2.1% above the national average
Southern charm, a rich history, city living and nearby beaches combine to make Charleston a uniquely attractive retirement destination. History buffs, in particular, can appreciate the city's Civil War sites, including Fort Sumter, and well-preserved antebellum architecture. The Preservation Society of Charleston is the oldest community-based historic preservation group in the country.
Foodies, too, can find plenty to enjoy along Charleston's cobblestone streets, especially in the brunch and comfort food areas. And if you need to work off some of those calories, water sports, including surfing, paddle boarding and kayaking, are popular local activities—along with boating and fishing.
8. Provo, Utah
WELL-BEING SCORE: 63.2
CITY POPULATION: 116,199
SHARE OF POPULATION 65+: 6.0%
COST OF LIVING FOR RETIREES: 1.7% below the national average
AVERAGE INCOME FOR POPULATION 65+: n/a
STATE'S TAX RATING FOR RETIREES: Least Tax Friendly
The Beehive State, 10th in our 2018 rankings of the best states for retirement, is a sweet spot for active retirees. And Provo, with mountain peaks within the city limits and Utah Lake on its doorstep, is particularly buzz-worthy. Brigham Young University offers intellectual stimulation to complement the physical activity. Plus, living costs are low while incomes are high, at an average $97,958 a year for residents age 60 and up.
Another feather in its cap: The Milken Institute rates Provo as the best large city for successful aging, noting the area's vibrant economy and safety, as well as the population's healthy lifestyles and high levels of volunteering among older adults. The metro area also has an abundance of health care facilities, about 32 establishments per 1,000 seniors compared with about 19 per 1,000 seniors in the U.S.
7. Richland, Wash.
WELL-BEING SCORE: 63.6
CITY POPULATION: 53,991
SHARE OF POPULATION 65+: 15.5%
COST OF LIVING FOR RETIREES: 1.7% below the national average
AVERAGE INCOME FOR POPULATION 65+: $70,059
STATE'S TAX RATING FOR RETIREES: Tax Friendly
Richland's metro area includes Kennewick, both of which qualify as great retirement destinations. But the smaller of the two, Richland, has an older population with a higher average income (Kennewick's is $57,989) and lower poverty rate (7.6% compared with 8.3% in Kennwick—both lower than the national poverty rate of 9.3% for people age 65 and older).
Whether you're partial to exploring the great outdoors or focusing on wine country, you have plenty of options—you don't even have to choose one over the other. You can enjoy boating and fishing on the Columbia, Yakima and Snake Rivers, and hiking or biking on the 23-mile Sacagawea Trail. There are also more than 200 wineries within a 50-mile radius, offering beautiful views and many wines to sample.
6. Cape Coral, Fla.
WELL-BEING SCORE: 63.6
CITY POPULATION: 173,679
SHARE OF POPULATION 65+: 21.9%
COST OF LIVING FOR RETIREES: 2.4% below the national average
AVERAGE INCOME FOR POPULATION 65+: $42,123
STATE'S TAX RATING FOR RETIREES: Most Tax Friendly
With its desirable climate and favorable tax status, Florida is filled with popular retirement destinations. Many of our favorite retirement spots in the Sunshine State can be found along the Gulf Coast including St. Petersburg, Sarasota and Punta Gorda.
Cape Coral's metro area includes Fort Myers, yet another great place to consider for your retirement. But Cape Coral is unique in its waterway access, offering more than 400 miles of canals for all your boating, fishing and water sports dreams. And land lovers can enjoy the area's beaches, golfing, tennis, parks and other recreational offerings.
5. Durham-Chapel Hill, N.C.
WELL-BEING SCORE: 63.6
METRO POPULATION: 550,281 (Durham: 257,170)
SHARE OF POPULATION 65+: 13.6% (Durham: 10.8%)
COST OF LIVING FOR RETIREES: 10.5% below the national average
AVERAGE INCOME FOR POPULATION 65+: $63,046 (Durham:$59,567)
STATE'S TAX RATING FOR RETIREES: Not Tax Friendly
Duke University and the University of North Carolina may be bitter sports rivals, but their hometowns of Durham and Chapel Hill, respectively, team up to form a powerhouse metro area, and a great place to retire. Indeed, the Milken Institute ranks Durham-Chapel Hill as the third best large metro area for successful aging — crediting the area's economic strength, as two-thirds of North Carolina's Research Triangle (the other third being Raleigh), and quality health care. The universities play a big role in those two advantages and also boost up the local cultural and recreational scenes, like in many college towns. 
Though not a deal-breaker for every retiree, it's worth noting that violent crimes are more prevalent in Durham than they are for the nation as a whole. The rate of violent crime is 8.6 per 1,000 residents, according to the Neighborhood Scout, compared with a national median of 4 violent crimes per 1,000 residents. Chapel Hill rates safer, with just 1.8 violent crimes per 1,000 residents. And the real estate values reflect it: The median home value is $382,900 in Chapel Hill and $229,900 in Durham, according to Zillow.
4. Carlsbad, Calif.
WELL-BEING SCORE: 63.8*
CITY POPULATION: 113,147
SHARE OF POPULATION 65+: 16.0%
COST OF LIVING FOR RETIREES: 40.6% above the national average
AVERAGE INCOME FOR POPULATION 65+: $70,348
STATE'S TAX RATING FOR RETIREES: Mixed
Part of the San Diego metro area, Carlsbad offers a small-city feel with easy access to big-city amenities. It has a vibrant cultural community, ocean-side living and sunny climate. You can also find 40 parks, more than 50 miles of hiking trails and a full calendar of artsy offerings, including Foreign Film Fridays in the spring and free concerts in the summer. (Not that there are really seasons in Carlsbad: Throughout the year, average highs fall between 62 and 71 degrees Fahrenheit, and average lows only go down to between 45 and 64 degrees Fahrenheit, according to Weather.com. And rainy days are rare.) Plus, you can choose among a host of retirement communities with ocean views.
Of course, you have to be able to afford it. Like much of California—where living costs are 69% above the national average, making it the second-most expensive state in the country behind only Hawaii—Carlsbad and the whole metro area is a pricey place to live. For example, the median home value in the U.S. is $229,000, according to Zillow; in California, it's $548,600; and in Carlsbad, it's (brace yourself) $860,700, which is still better than San Diego's stunning $1.4 million median. And taxes throughout Cali also weigh heavily on your wallet.
*Data for San Diego-Carlsbad metropolitan statistical area.
3. Portland, Maine
WELL-BEING SCORE: 63.9
City population: 66,715
SHARE OF POPULATION 65+: 13.7%
COST OF LIVING FOR RETIREES: 17.1% above the national average
AVERAGE INCOME FOR POPULATION 65+: $44,769
STATE'S TAX RATING FOR RETIREES: Mixed
The largest city in Maine, Portland offers a lively downtown and plenty of urban-esque amenities amidst the great outdoors of the Pine Tree State. You can enjoy museums, theaters and an array of eclectic dining. The flagship L.L. Bean store in nearby Freeport is a must-see for many visitors, but resident shoppers also flock to Portland's unique boutiques and outlets.
All the while, you're never too far from the area's many beaches. That means ample opportunity to lounge on the shore or dive into water-based activities including fishing, kayaking, sailing and even surfing. And of course, hiking and biking trails abound—perfect in the (much) colder months, too, for cross-country skiing and snowshoeing.
2. Ann Arbor, Mich.
WELL-BEING SCORE: 64.4
CITY POPULATION: 119,303
SHARE OF POPULATION 65+: 11.3%
COST OF LIVING FOR RETIREES: n/a
AVERAGE INCOME FOR POPULATION 65+: $82,971
STATE'S TAX RATING FOR RETIREES: Not Tax Friendly
Another college town well suited to retirees, Ann Arbor is home to the University of Michigan with all its educational programs (including the Osher Lifelong Learning Institute), sporting events and cultural affairs. The university also runs the Geriatrics Center & Institute of Gerontology, which focuses on health care issues that come with aging. Along with its research facilities, medical facilities and staff, the Center offers programs and classes to help older adults maximize their good health and independence.
In fact, Ann Arbor's health care facilities are top-notch, helping to earn it a sixth-place ranking among small metro areas for successful aging, according to the Milken Institute. The area's public transportation options are another noted winning attribute for older residents. A downside, however, is affordability. Overall living costs are 27.1% above the national average, according to Sperling's BestPlaces, and the median home value is $378,600, versus just $153,000 for the rest of the state, according to Zillow.
1. Charlottesville, Va.
WELL-BEING SCORE: 65.0
CITY POPULATION: 46,487
SHARE OF POPULATION 65+: 10.4%
COST OF LIVING FOR RETIREES: 0.2% below the national average
AVERAGE INCOME FOR POPULATION 65+: n/a
STATE'S TAX RATING FOR RETIREES: Tax Friendly
Renaissance man Thomas Jefferson laid the foundation for the well-rounded city his hometown has become. From his University of Virginia's hollering Hoos to the artists on the downtown promenade, the Charlottesville community is an unexpected blend of Southern charm and liberal edge, a nice choice for a range of retiree personalities. And beyond the college campus and city center, you can find plenty of options for outdoor recreation in the foothills of the Blue Ridge Mountains, including more than 100 miles of of the Appalachian Trail in nearby Shenandoah National Park.
In August 2017, Charlottesville captured national attention when a gathering of white nationalists to protest the removal of a monument to Robert E. Lee turned into a violent rally, injuring dozens of counter-protesters and killing one, Heather Heyer. 
In general though, the city's violent crime rate is a low 175.4 reported incidents per 100,000 residents, compared with a 297.8 rate for all U.S. cities of similar size, according to the FBI. Charlottesville also ranks fifth for overall well-being, out of all 187 metro areas included in the Gallup-Sharecare Well-Being Index, with above-average scores in all categories, including physical health and resident satisfaction.