For Buyers, the Model Home signs you see everywhere around the Charlottesville area often make you want to stop in and check them out. When you see the finished project, it's easy to get excited about building your dream home from the ground up – choosing your lot, your model, interior finishes and upgrades, etc.
But, like with any home purchase, buying new construction is an expensive transaction, with many financial implications, and it's a good idea to have a seasoned Buyer's agent on your side to make sure your rights are protected.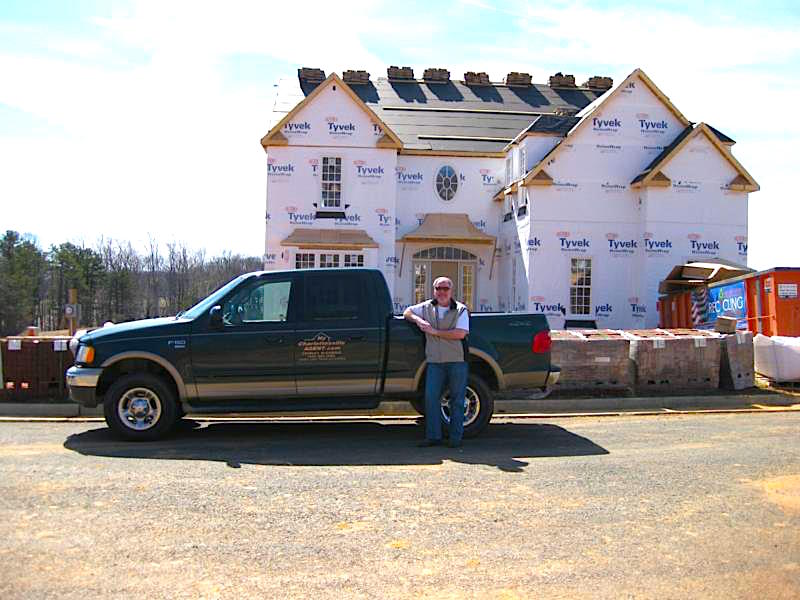 Many prospective Buyers think they will save money by using the builder's suggested lenders, title company, closing company and reps, but this might not be a good idea when and if problems arise during the building process, and even after everything has been completed. Also, Buyers might think Realtors® know little or nothing about construction.
Builder sales reps represent the builder. Often builders have their own agents on site at Model Homes to answer questions, assist people who walk in, and ultimately help with a purchase. Builder reps provide a valuable service: They can explain differences between models and floor plans and share information about financing options, upgrades and specials.
But, when it comes to signing a contract, it's a good idea to have a dedicated Solutions Buyer's agent on your side to help make sure you understand the buying and construction process and act on your behalf, not the Seller's.
New home construction prices are generally based on the builder's cost plus their profit or markup. In most cases, builders either have a marketing budget, which includes commissions, or they use a percentage profit or markup, which includes a commission.
What generally happens when a Buyer/client works directly with a builder is that the builder pockets the commission as additional profit. Most builders or their salespersons will advise you that there's no need for you to have a real estate agent.
Fiduciary responsibility. One of the most important considerations for any Buyer is fiduciary responsibility. When you retain the services of a Solutions buyer's agent their responsibility is to you.
That means you have an expert who is looking out for your best financial interests, and who's contractually obligated to protect you. A Solutions agent can help you navigate the new-construction contract; help you understand how specific clauses, riders and upgrade options affect you; and make sure you know what you need to before you sign on the dotted line.
Builders will make it seem simpler without a Realtor® and that having one is really not necessary. This might be true if the builder represented your interests instead of theirs.
Did you know that most homebuilders have their own mortgage and title companies – not for your interest, but for theirs? The builders need their lender and title companies to finance their business and buy your lot and others. This is big business for both of them and be assured that those relationships favor the builder's interest way ahead of yours.
Negotiating a better deal. Finding the right model and picking your upgrades is the fun part. Once you're ready to sign the contract, your Solutions agent will work on your behalf to negotiate the terms, from upgrade options to financing and closing costs. In addition, they can present other options for financing or might be able to work with the builder's lender directly to get you a better rate for your mortgage.
Guiding to closing. Signing a contract with a builder is just the beginning. You must also line up financing, work with title companies and attend numerous inspections throughout the construction.Your Solutions agent can help manage that process and accompany you on inspections to ensure you're not missing anything at each construction milestone.
Would you represent yourself in a lawsuit? It's a great idea to determine your Solutions agent's knowledge, experience, and success on new builds. You can ask them to justify the commission dollar wise, but remember, as discussed above, you're not the one who will be paying the commission.
Here are some of the things to keep in mind:
* Most buyers will use a builder's floor plan without consulting an architect. Your Solutions agent may suggest on a professional architect's input. Because architects will introduce ideas and standards that builders want to avoid, builders will almost always discourage a Buyer from using one.
* Typically, 4-6 meetings are conducted between the builder and the Buyer before a contract is executed. Usually the Buyer signs the contract on the spot. However, if your Solutions agent is present, they will insist on waiting several days so that additional negotiations can take place and to ensure the Buyer gets the best contract price possible.
* Most Buyers will do only a walk-through with the builder. Your Solutions agent will insist on an inspection by a licensed professional prior to closing and will attend the inspection with the Buyer.
In conclusion, having a qualified Solutions agent to represent your interests when having a new home built is essential. Although the builder will do their best to make it seem otherwise, the commission saved will go back into their pocket and not yours.
Your Solutions agent will keep a detailed account of the builder's actions and make sure that you're getting the most home for the money. The best part is that there's no additional cost to you. So when you go to buy a new home, find a seasoned Solutions agent. It just makes sense to have someone working for you.