Here at Solutions we get asked questions all the time about working with area home builders. When thinking about building your dream home, you have your choice between the larger companies and several well-established smaller local builders.
If you prefer the "hands-on" approach, working with a small builder may be your best option, and selecting the right one is a key step in the journey that leads to your dream home.
Being a part of the process ensures that the end result is absolutely what you envisioned when you first decided to build. And asking questions is vital. 
Here are some extremely important ones to ask your builder as they will also help you better understand key steps in the building process and the decisions you'll make, in partnership with the builder, to bring your new home to life:
* How many years have you been in business? How many homes have you built? Are you licensed (where required) and insured?
* How many homes do you build a year? (hint: more is not necessarily better)
* How do you compare yourself to other builders? What are the most important benefits of the homes you build? What type of warranty do you offer?
* Can you give me references from prior home buyers? Do you build model homes I can tour? If not, can you help me make an appointment to see a home you built for another customer?
* What are the major energy-saving features of homes you build? Do you build only from home plans you supply? Or can I provide my own set of plans? What standard features do your homes include? What options and upgrades can I select?
* Who will oversee the construction of my home? Who should I contact with any questions I may have? How and when can I make changes or upgrades before and during construction?
* How and when will the final price for my home be determined?
How often (and when) will I have access to the home during the building process? How long will my home take to complete?
* Does the community have a Home Owners Association and/or an Architectural Review Committee? If so, may I get a copy of their rules and the amount of any fees?
* What's your process for inspection at key points of construction, at final walk-through, and to address any matters that need to be corrected or finalized?
There may be other important questions you wish to ask, so feel free to add them. The list above is a great starting point to select the firm to build your new home.
One such local area builder we'd like to highlight is Gibson Homes: http://gibsonhomesva.com/. Established in 1994, Gibson Homes has become known for its excellent craftsmanship and quality.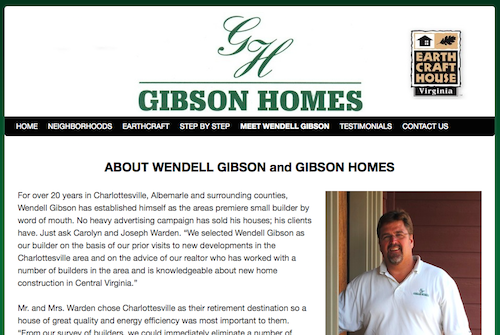 A Gibson home with EarthCraft certification is one that has been designed, and built to suit the unique climate conditions of the Southeast (specifically central Virginia). Gibson is one of the few area builders that have exceeded these standards for years. One example is that the walls have cellulose insulation with an R21 rating (current 2012 code is R13).
Gibson homes are built for energy, water and resource efficiency. One of the key factors is that the homes are air-tight and designed with enhanced indoor air quality. What this means to your family is a healthier, more sustainable lifestyle.
What are the benefits of an EarthCraft home?
* Lower utility costs
* Enhanced indoor air quality
* Increased comfort
* Reduced home maintenance requirements
* Higher resale value
If rising energy costs concern you, take a closer look at EarthCraft. You'll find that EarthCraft saves you money on your energy bills from day one.
That's because EarthCraft projects reflect a comprehensive approach to building. They're sealed to prevent hot and cold air leaks, and outfitted with energy-efficient lighting and appliances, all for year-round comfort and savings.
And if maintenance and repairs are taking a bite out of your wallet, you'll especially appreciate the durability and high quality construction that EarthCraft represents. Low-maintenance living was never so comfortable!
In conclusion, if you are considering building, understand that a hand-on builder will often not only take great pride in their work, they will be sure you end up with the home of your dreams.