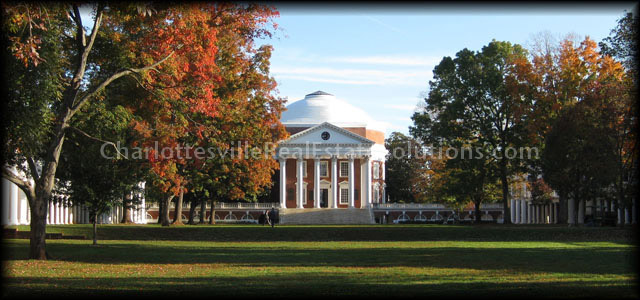 The University of Virginia (often abbreviated as UVA, UVa, or Virginia) was conceived and designed by President Thomas Jefferson and established on Jan. 25, 1819. The first classes met in March 1825. UVA's first Board of Visitors included former Presidents of the United States Jefferson, James Madison and James Monroe, who owned the initial site of the University, which was mostly farmland. His law office and farmhouse are now the site of Brown College at Monroe Hill, a residential college at UVA.
UVA is one of the eight original public Ivy universities, and is the only campus in the U.S. that is designated a World Heritage Site by UNESCO.
UVA ranks the No. 2 best public university and No. 25 among all universities in the 2013 U.S. News & World Report college rankings, tied with UCLA and surpassed only by UC Berkeley. UVA also ranks 2nd among the nation's public institutions in Princeton Review's Best Value Colleges: 2012 Edition and 2nd in Kiplinger's Personal Finance magazine's "100 Best Values in Public Colleges" for 2012-2013.
A diverse student body
Enrollment for the 2012-2013 class was 14,641 undergraduates and 6,454 graduates, for a total of 21,095. Tuition and fees for those entering as undergraduates were $12,224 for in state and $38,236 for out of state.
UVA not only draws from in and out of state, but is also comprised of students from all over the world. The top sending countries in spring 2012 were: China – 372; Republic of Korea – 215; India – 112; United Kingdom – 95; Canada – 69; France – 52; Turkey – 49; Germany – 35; Singapore – 30; and Thailand – 27.
UVA serves more than one million people each year through more than 500 public service and outreach programs. Each week more than 3,000 UVA students volunteer as tutors, construction workers, peer counselors, etc., and give more than 110,000 hours of service each year, valued at over $2.4 million.
A little bit of history
In 1904, Edwin Alderman became the university's first and longest serving president, spending 26 years in office until his death in 1931. Alderman Library is named in his honor.
UVA began the process of integration even before the 1954 Brown v. Board of Education decision mandated school desegregation for all grade levels, when Gregory Swanson sued to gain entrance into the university's law school in 1950. Following his successful lawsuit, a handful of black graduate and professional students were admitted during the 1950s, though no black undergraduates were admitted until 1955.
In 1970, the first class of 450 undergraduate women entered UVA (39%). By 2003 women comprised 55% of the undergraduate student body.
UVA established its first and only branch campus at Wise, VA, in 1954. The UVA Wise campus currently enrolls 2,000 students. As a public, four-year residential college located in the mountains of southwestern Virginia, it's recognized as one of the top public liberal arts colleges in the nation.
In 2010 the University welcomed Teresa A. Sullivan as the University's first woman President.
Information courtesy of the Rector and Visitors of the University of Virginia