Minimal Cost Kitchen Upgrades That Will Increase the Value of Your Home
The kitchen is the room where you spend most of your time, so are there cheerful and cost effective ways to update the space without gutting it (or your wallet) to get a whole new look? We have some great tips for you.
The average kitchen remodel costs a staggering $18,856 – and high-end ones average $54,909 – but you don't need to shell out a lot of money to make a big impact in an outdated kitchen. 
Whether you've lived in your house for years or you just got the keys, here are some easy ways to give it a refresh.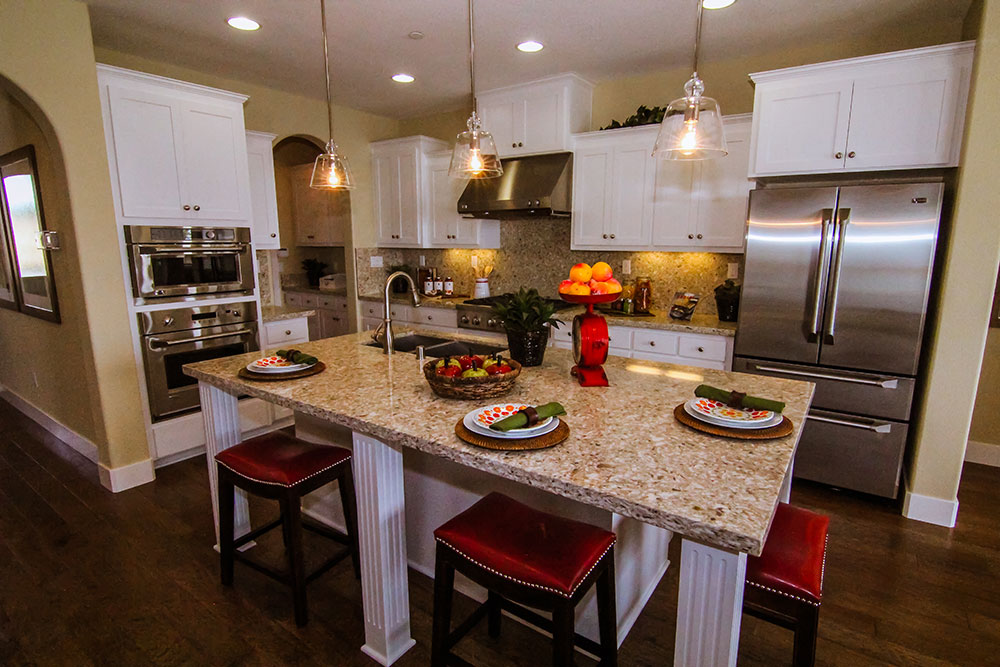 Repaint your cabinets and change out hardware
Estimated cost: $250 for hardware, $300 for paint
Painting cabinets in a semigloss finish and adding new hardware are painless ways to give your kitchen a quick face-lift without breaking the bank. 
Try options like a recessed ring pull and traditional bin pull for stylish hardware that's simultaneously timeless and trendy – if you like color then go for it or choose a brushed nickel finish. Resist the temptation, however, to get something too personal or cutesy as it will look dated very quickly.
For the cabinets, start with the color of the countertop and then pick out colors that will complement them – using lighter colors for the upper cabinets will keep a room from feeling closed in, and then possibly use something for the lower cabinets that will brighten things up.
Swap out (or even remove) cabinet doors
Replacing existing doors with glass-paneled ones can mimic the look of a major upgrade Opt for frosted glass, if you feel like your shelves aren't display-worthy.
Or, take off the doors altogether to create the effect of open shelving. Display your favorite dishes and bowls to add a bit of interest to the room.
Paint an accent wall
Not game to spend hours painting cabinets? Quickly do a single wall instead. Go darker than you usually would – if the main coat of paint is light shade then add an accent wall that's two shades deeper.
Replace the countertop
Estimated cost: Starting at $300 for concrete countertops
This job is less expensive than you think — and it can make ho-hum cabinets look more special. You can get a new laminate surface for a few hundred dollars. Turned off by anything but stone? You might be surprised by the nicer laminate options that have recently surfaced.
Since most of your time is probably spent in the kitchen at your countertop — eating, preparing food, planning the next party, etc – you want your surface to be durable, without over-spending. 
Search for remnant granite (pieces left over from other projects) or buy a butcher-block or even concrete countertop, which can be stained to match the space. 
Go to a store that has reclaimed materials and grab a beautiful slab of wood or a commercial metal countertop to use as the accent on the island.
Use more expensive materials, like granite or marble, on smaller spaces to give impact to the space, without a significantly higher price tag.
Add a new kitchen sink
Estimated cost: Starting at $299 for stainless steel
A sink is one of the most important elements in a kitchen: choosing one that doubles as a centerpiece turns what seems to be a purely functional element into a showpiece. A new sink, such as an apron-front farmhouse sink feels custom and thoughtful and gives potential future Buyers the perception that the home has a greater value.
Hang window treatments
New drapes can really spruce up a space, but think twice about the type of treatment you hang on the window above your sink and whether it can handle getting splashed. Look at an option that fits within the window — like a roman shade that you can easily pull up while you're washing dishes.
Place a rug in front of the sink
It does double-duty by making your workstation more comfortable on your feet, and adding a splash of color. (Triple duty, if you count covering any ugly flooring!). Indoor/outdoor options also work well and are easy to clean.
Add a backsplash
Estimated cost: $2,000
Tired of doing dishes and looking at an old backsplash with yellowed grout? Consider changing a tile backsplash to a modern glass, mosaic tile, or a classic white subway tile, which never goes out of style as it now comes in many sizes/shapes and can be laid in a herringbone or soldiered pattern for an updated and fresh look. Neutral tones will make the kitchen feel bigger and brighter to you and potential future Buyers.
The average backsplash is between 10 and 40 square feet so it's an easy-to-tackle area that won't break the bank.
Don't have the skills to install tile or cash for a contractor? Try paint instead. Just make sure you pick up a semi-gloss. The glossier the paint, the more it will resist moisture — and you can simply wipe it clean when dinner is over.
Hang a pendant light
Estimated cost: $75 to $250
Good lighting is important for everyone and in every room. If you really don't like your kitchen's decades-old light fixture, replace it with a colorful pedant. This one change can totally transform the entire space. Consider spotlighting the sink, island or prep areas.
Add under cabinet lighting to give the kitchen a higher-end look — or simply exchange the bulbs for LEDs in existing fixtures to cast the kitchen in a better light (and get some energy savings to boot).
Put a hood on it
Estimated cost: Starts at $599, plus labor
Most potential Buyers will see the kitchen in one quick scan, from the countertop and sink to the stove. Adding a functional stainless steel hood to the space is a great way to amplify the look of the kitchen and give it a fresh feel, even if you don't put in a new stove. 
Hoods typically vent to the exterior, but don't worry if adding new ductwork seems overdone. Instead, opt for a ductless range hood. 
The charcoal filters will have to be replaced every few months, but you will save a lot of money on ductwork. Have an electrician come in to replace and install the hood for safety purposes. 
An oversize hood creates the look of a 'chef's kitchen,' which is usually only seen in luxury kitchens – and it can immediately add thousands of dollars in value to the space.
Paint the Hardwood Floors
Estimated cost: Varies depending on the size of your space; painting or restaining floors typically costs between $400 and $650 plus labor; ceramic tile starts around $900 plus installation costs
You might think about the kitchen floor mainly when you're mopping up a spill, but painting it is a quick way to give this key surface new life. 
A simple floor color change is all that is needed, in say, a rich brown shade or a gray stain. Opt for enamel paint like Benjamin Moore's Floor and Patio Latex enamel. 
If you're cautious of making such a long-lasting commitment, many retailers sell pint-sized paint samples so you can test out a color before you decide. If you want to heighten the look of the kitchen even more, consider adding ceramic tile.
Think of small appliances as decorative accessories
An orange fridge might be too bold (and too expensive) for most homeowners. But go nuts with everything else — like a cobalt toaster, or a cherry red mixer. As an example, everyone has seen the red kettle often used in staging photos – something like that easily draws the eye in to the room.